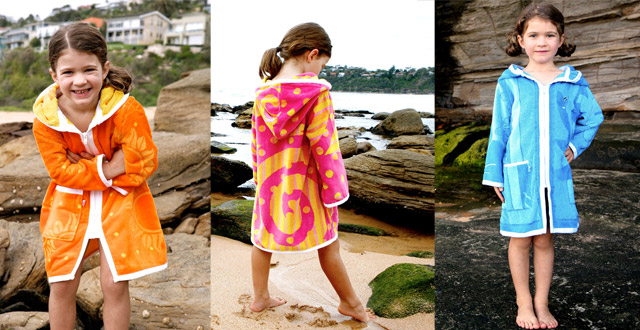 Towelling Swim Parka & Robe Fabrics
We have two strong areas of expertise that have helped us produce our unique Towelling Swim Robes and Swim Parkas.
Great Design
1. We are designers who live and breath the water, the ocean and water sports. Within our team we have strong swimmers, surfers, kayakers, snorkelers and sailers. So we know our category and we know what works in terms of swim garments.
High Quality Towelling Fabrics
2. We are experts in cotton towelling. For over 10 years we have specialised in designing and making the finest beach towels available anywhere in the world. We have experience with the worlds best cotton - from combed cotton yarns, to bamboo yarns and certified organic cotton.

We have direct contact with the world's largest towel mills and their finest towlling engineers whom we work with to produce and source the very best quality towelling for our swim garments. Our garment cutters and sewers are also specialist in towelling (a difficult area to learn and master) and our quality control teams are sharp. The result is the very best towelling fabrics for our swim and beach garments. Fabrics that deliver functionally and aesthetics. All trailed and tested. All the very best.